Sunday School Activities About Love
Just as God is love, we want to be full of love in all we do. We want to reinforce love to our Sunday school classes with activities about love to match the lessons we teach. One way to have new activities each week is to use Children's Worship Bulletins for inspiration. Log in to the website and select "Love" from the Topic list. You will find bulletins centering on love from these Scriptures:
Song Of Solomon 2:8-13
Isaiah 5:1-7
Hosea 11:1-11
1 Corinthians 13:1-13
Let's choose the last one to demonstrate activities.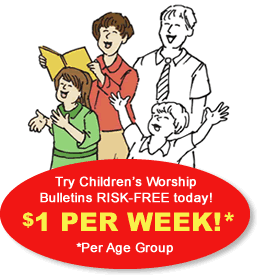 Sunday school activities about love for ages 7-12
By choosing the "Love Is Patient and Kind" panel from the Children's Worship Bulletin, you can create a fun activity for your class to reinforce the attributes of love.
What you will need:
Children's Worship Bulletins for everyone
Pencils for everyone
A bag of prizes/candy
What you do:
Give everyone a bulletin and a pencil.
Explain the instructions to the class.
Give the class 10 minutes to complete the assignment before grading it.
Everyone who completes it correctly gets a prize.
Talk a little about the good things that love brings out in us.
Now ask your class to go around and sign their names on every bulletin. They should sign on the award graphic that they want to work on improving the most. For example, if a child most wants to learn to be sincere, he/she should sign on the pink ribbon on each paper in the classroom.
Pray with the class for each person to be able to grow in the area that they requested. Ask the class to take this home and pray at home tonight for their friends to grow in love in these areas.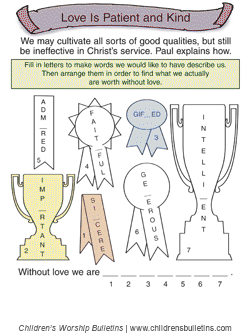 Sunday school activities about love for ages 3-6
Create an opportunity to have a discussion with preschoolers about love.
What you need:
A red marker
An enlarged poster of the puzzle on the right
A heart cut-out of red construction paper for each child in the class
Children's Worship Bulletins for the class
What to do:
Use your new poster to explain love to your students. Talk with them about each picture. Have the children tell you what is going on in each picture. Which pictures show love?
Help your students draw a heart in the box of the ones with love. (Heart stickers can be used).
Ask each student to tell about something they did this week that showed love.
Reward them with a heart cut-out to remind them to continue to be loving.
Give each child a bulletin to take home. They can complete the other puzzles in class if time allows or work with parents at home to solve them.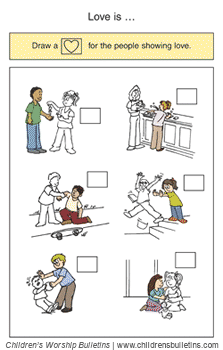 Order Children's Worship Bulletins online today
Get your ideas for Sunday school activities about love and many other topics today at Children's Worship Bulletins. With two levels available: for ages 3-6 and ages 7-12, we have a wide variety of activities to meet the needs of your children.
Enjoy unlimited downloads from the website. These reproducible activities are now available in color. Either age group of Children's Worship Bulletins is only $4.99 per month. Take advantage of our special offer: Order both age groups for only $7.49 a month when you choose electronic delivery. Your second age version is half price!
Our rock-solid guarantee
We guarantee that Children's Worship Bulletins will provide relevant, fun material for your children to use with your weekly services AND give you access to more bulletins and puzzles then you'll find anywhere else! Better yet, they're conveniently available to you at any time. And here's our guarantee:
"If at any time you're dissatisfied with em>Children's Worship Bulletins for any reason, we'll cheerfully issue a prompt and full refund — no questions asked."
That's just how confident we are that you and your children will love Children's Worship Bulletins.
Place your ORDER TODAY so the kids of your church can begin using the fun Bible activities this week!

"Our children were ecstatic about the bulletins on Sunday. They felt so important to receive their very own bulletins."
- Jo Ann
Read More Testimonials