Find Sunday School Activities About Patience
There is a reason they say patience is a virtue. It isn't always easy to come by in today's world for adults or children. That's why it is important to take the opportunity to educate your students on the role of patience in their lives. Sunday school activities about patience created from Children's Worship Bulletins help you do just that.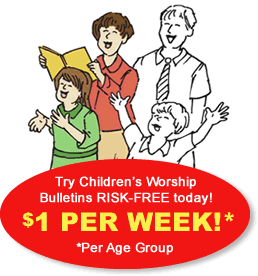 Learn about Sunday school activities about patience
In our library, you will discover hundreds of bulletins about patience and other important topics for children. All of our bulletins are Bible-based. Not only do they help you teach Scripture, they make sure your students have fun while learning.
Our bulletins on patience will help your students make the connection between finding patience in their own lives and the patience of God. As we follow God, we develop His fruits of the spirit, including patience. Each bulletin has been:
reviewed by our educational specialist
tested by children
approved for the age group indicated
Here's an example of our Children's Worship Bulletins about God's patience. We will show you how to adapt our bulletins for classroom use in this example.
GOD IS PATIENT Sunday school activity
1 Timothy 1:12-17 for ages 3-6
Preparation:
Select the bulletin that you would like to use.
Print both the bulletin and answer key.
Make enough copies of the bulletin for the class.
Gather pencils or crayons for the students.
Directions for activity:
Pair the class up in teams of two.
Distribute copies of the activity and pencils or crayons to each student.
Give directions to the class, "Find the differences between the two pictures. Circle the differences in the 2nd picture. There are 5 of them. You can work together and help each other. Raise your hands when you are both done."
The first team to find all 5 differences collectively is the winning team. Give each winning team member a prize.
Review the answers to the puzzle with the class.
Reinforce the lesson by talking about patience. Thank the students for being patient with a partner who didn't see the answers as quickly as they did. Thank them for being quiet and patient as you showed the answers to the class.
Send the bulletins home with the children so they can have fun completing the other activities at home.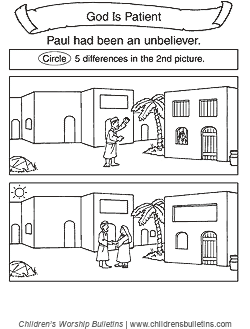 Keep students engaged with Sunday school activities about patience
With all of the distractions the world throws at children today, it can be difficult to keep them engaged in the classroom. Our bulletins help you do just that. Our activities include mazes, word pictures, puzzles and more all designed to teach and entertain at the same time.
We provide activities for two age groups, 3-6 years of age and 7-12 years of age. There are hundreds of bulletins in our library, covering stories from the Old Testament, Gospels and the Epistles. You can search by keyword, topic or Scripture reference to find a bulletin that matches your lesson material.
Guaranteed, Risk-Free Trial
Put Children's Worship Bulletins to the test by signing up for our 30-day, risk-free trial period, and see for yourself! That's right, for one month you can download and print bulletins to share with your children.
At the end of the month, you can either cancel and owe nothing or send in your low payment of $4.99 per age group to continue enjoying all our bulletins! You have NOTHING to lose!
Begin a membership to both age groups of Children's Worship Bulletins today and SAVE UP TO 50% on the second age group. IMMEDIATELY begin engaging your children in worship. They'll thank you!
Start your Risk-Free trial and download the perfect bulletin TODAY.

"Our children were ecstatic about the bulletins on Sunday. They felt so important to receive their very own bulletins."
- Jo Ann
Read More Testimonials