Largest Online Library of Children's Bulletins

Reproducible children's bulletins you can customize and personalize.
Children's Worship Bulletins provides engaging, Bible-based worksheets that are perfect for Sunday worship services, Children's Church programs, Sunday school and take-home activities. It's a quiet and fun way to involve your in kids in worship and teach them the Bible.

Perfect for church or home.
Our bulletins are easy to find, print and use to hand to your children to quietly use during church services that fits the pastor's sermon. But they also make excellent supplemental material for your Sunday School lessons or home-based devotions. And with personalization, it's easy to add relevant information such as a memory verse or message suited for your family. More Info >

Each bulletin is packed with Bible-based activities.
Each bulletin has 4 panels packed with puzzles ... word searches ... seek-and-finds ... dot-to-dots ... and many more Bible-based activities that children love. More Info >

Over 1,500 bulletins to choose from.
Your membership offers you unlimited access to an enormous online library of bulletins built around passages from every book of the Bible – from both Old and New Testaments! Whether you are using these in church or sending them home, you'll be able to easily find a bulletin that fits the topic or Scripture you need for your pastor's weekly sermon, your vacation Bible school and more. More Info >

Search by Scripture, topic or lectionary.
Other bulletin services send you bulletins based on a predetermined Scripture for each week, and that's your only choice. Not with Children's Worship Bulletins! Simply search by the Scripture you want and download the associated bulletin. Or use our handy Topic Search to find bulletins surrounding popular Christian topics and themes. More Info >

Color bulletins available online.
You'll be sure to grab your kids' attention when you hand them a colorful and fun bulletin from our huge selection of color bulletins available online. If your kids prefer to do the coloring themselves, we've got you covered! Every bulletin is also available in black and white. More Info >

Bulletins emailed every Monday.
Some days you simply just don't have the time to go searching for the bulletin you need; that's why every Monday we deliver the upcoming Sunday's bulletin right to your inbox. Choose between the Revised Common Lectionary (RCL), RCL with Lutheran variations or even Lectionary for Mass Scripture schedule. More Info >
Pricing Options for Any Budget

Bulletins teach basic Scripture knowledge, not doctrine.
They're carefully designed using proven educational methods and endorsed by Christian educators and pastors of all denominations. Since they teach basic Scripture knowledge, not doctrine, they're perfect for all Christian churches.
---

Available in two age groups.
Two age-group versions enable you to select the one that best meets your needs. Choose from Ages 3-6 and Ages 7-12. Begin a membership to both age groups of Children's Worship Bulletins today and SAVE 50% on the second age group for the first year of membership.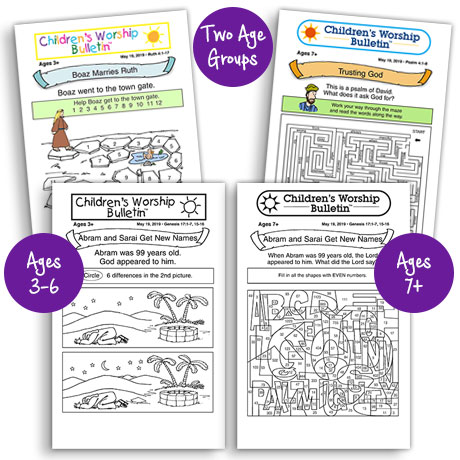 ---

Customize and personalize your bulletins.
Children's Worship Bulletins help children identify with your congregation. And when they take them home, they become an advertisement for your church - an evangelism tool to share with others, and a reminder for your children to check out your church's website while they're at home. You can even add a logo or illustration.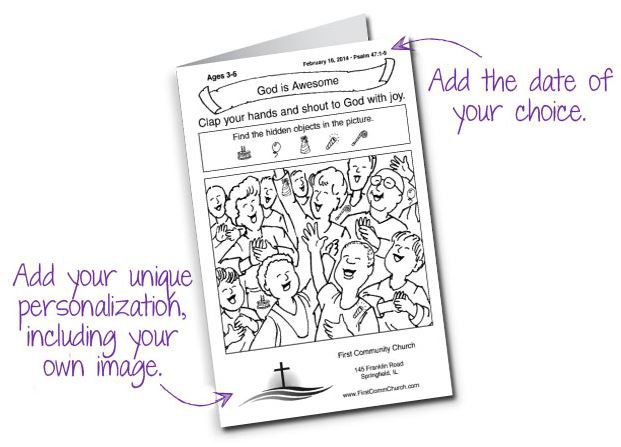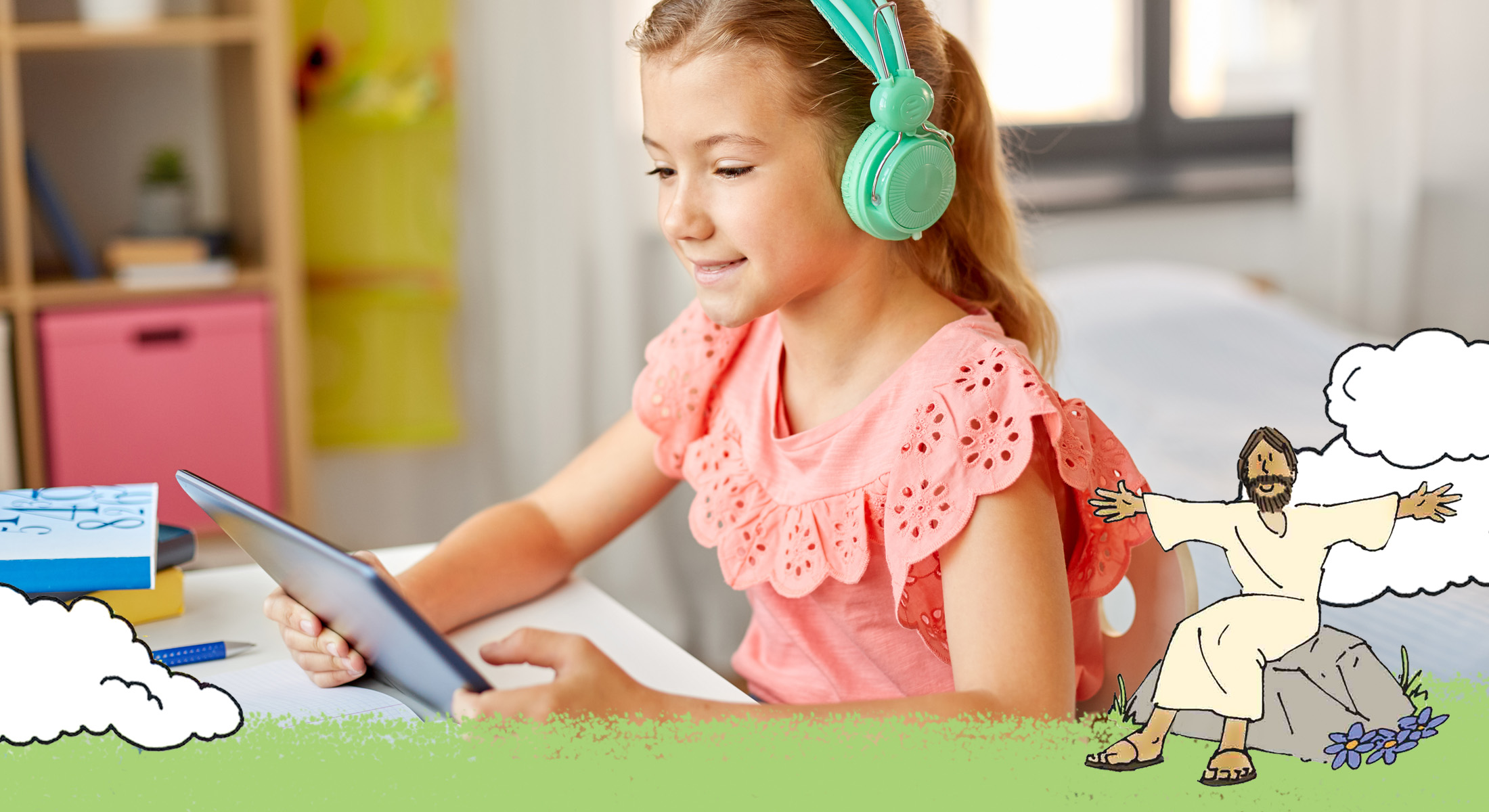 Online games keep the learning going all week long.
Children's Worship Bulletins@Home is an interactive site FREE with your electronic membership that allows kids to enter a secret code to play games that correspond with the current week's bulletin. We rotate through four fun games — Memory Match, Word Search, Gems of the Bible and Coloring Book — so each week there is something new to play. Whether you receive bulletins for ages 3-6, 7+ or both age groups, we've geared the games toward all age levels so everyone can join in the fun.
FREE with your electronic membership.
Children's Worship Bulletins @Home won't cost you or your members a dime more - it's included absolutely FREE with your electronic membership of Children's Worship Bulletins. That's right, there's no fine print - it's something we're proud to offer you as PART of your online membership without raising the price.
Games match the current week's bulletin.
Children will hold on tight to their bulletin following services because, after they get home, they can enter their secret code from the bulletin into a safe and secure website and continue the learning and fun!
Church Approved.
Kids will be so eager to pick up their bulletin each week to get their new code, churches will never be left with wasted and leftover bulletins again. Plus, we know your time is precious, so getting set up is FAST - simply log in to your Children's Worship Bulletins account, turn the feature on and you're set. We've even provided all the promotional material you'll need to inform your members and teachers about this new feature.
Parent Approved.
Parents can feel good about sending their kids to our @Home site, knowing they're in a safe environment where they can have fun and continue to reinforce the Bible stories they are learning at church.
Safe and Secure.
Safe browsing for children is non-negotiable for us - and we've worked hard to take advantage of the latest web security features. We do not capture any data about the players or download any game plugins to a computer that might be vulnerable to spyware. Plus, children will never see an ad (not even for our own products), so you can feel confident that kids are having a safe playing experience.
Get instant access to Activity Sheets & Bible Story Guides for virtually every story in the Bible
Why spend hours searching for Bible lesson aids? With more than 600 reproducible Bible Activity Sheets and Bible Story Guides plus our easy-search features, you can find everything you need with a couple of taps on your keyboard. 

With your membership to Children's Worship Bulletins, you'll receive access to our entire collection of hundreds of puzzles and activity sheets that will help you actively involve children in learning. Online access lets you download materials anytime, anywhere. Search by keyword, Scripture or topic, and enjoy unlimited use for every teacher and leader in your church. 
These materials are perfect to use as teaching supplements for your Sunday school classes, take home packets, vacation Bible school, moms' day out, kids clubs and more.

Story Guides
You'll find story guides and maps to help you teach the lesson. They're so convenient and easy to absorb, they are ideal for the last-minute substitute teacher. With just a little preparation, an adult can be ready to teach the lesson and then turn the kids loose on the activities.  Download a Sample

Activity Sheets For Younger Ages
Activity sheets provide fun options such as dot-to-dots, mazes and other pursuits for younger kids. You'll have hundreds of activities that engage youngsters in Bible lessons that make learning fun. Download a Sample

Activity Sheets For Older Ages
More challenging activities such as math codes, word searches, puzzles and more are perfect for older kids to help them learn Scripture in interesting ways. Download a Sample

Make Learning Fun
These educational activity sheets and Bible story guides make learning the Bible fun for kids. Maps and charts are also included to help teach biblical geography and help reinforce the lesson.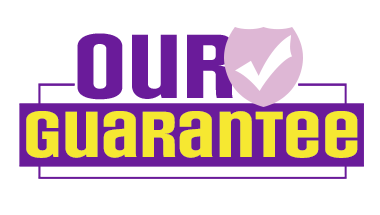 Our rock-solid guarantee.
We guarantee that Children's Worship Bulletins will provide relevant, fun material for your children to use with your weekly services, AND give you access to more bulletins and puzzles than you'll find anywhere else! Better yet, they're conveniently available to you at any time. And here's our guarantee: If at any time you're dissatisfied with Children's Worship Bulletins for any reason, we'll cheerfully issue a prompt and full refund — no questions asked. That's just how confident we are that you and your children will love Children's Worship Bulletins.
What Customers are saying about Children's Worship Bulletins.
Thank you for week after week of good materials that I can make available to the children to keep them busy yet teach them something from the Word at the same time."
–Jim, Pastor
I just want to say THANK YOU for such a wonderful resource! I'm sure the kids will love them on Sunday and we can't wait to use them this week! May God bless your heart and use your creativity to bless many others!"

–Ceri Hui
Our children were ecstatic about the bulletins on Sunday. They felt so important to receive their very own bulletins. We are very glad to have received the card in the mail inviting us to subscribe to this service"

–Jo Ann, Secretary/Treasurer
I have used your bulletins for several years now in children ministry. Just a note to say, "thank you" for all the work you have put into the bulletins to make them available to children. They have been a real asset in preparing or reviewing Bible lessons."

–Cecilia Gaus
Thank you! Well done, good and faithful servants! I am so impressed and thankful for all of the work you have done: Old Testament, color, account management, everything. Wait until my teachers see what you have done. God bless you much. A happy and thankful customer."

–Judy Janis, Church Secretary
Just started my subscription today and can't tell you how excited I am for our children. We are a very, very small country church and I have recently been asked to help revive our failing Children's ministries and this resource is an answer to prayer. ...Thank you, thank you so very much for the work you do to help disciple our children in the formation of their faith. God's blessings on you all."

–Carol Parcher
Start Today! Cancel at any time.
Begin your membership today to immediately access over 1,500 bulletins from every book in the Bible.
No commitment to continue.