Bible Character Sunday School Lessons
Sunday School Lessons for Kids' Favorite Bible Characters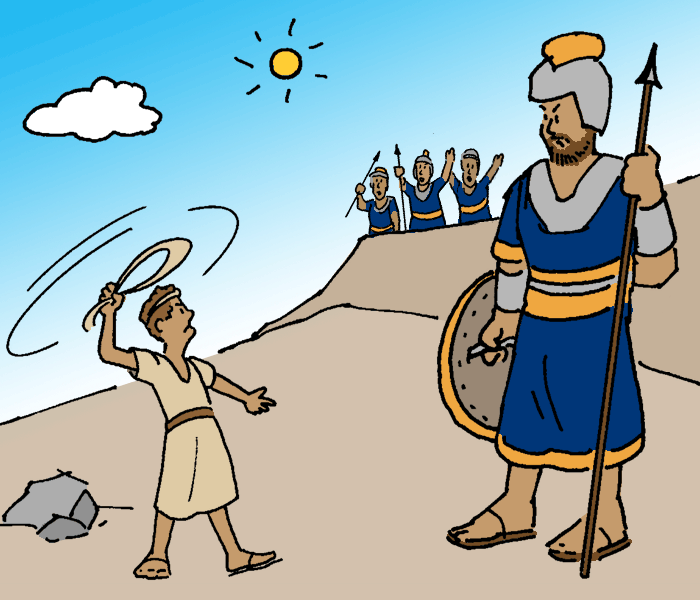 Teaching children about Bible characters is a critical element of any Sunday school curriculum. We love watching the love for God grow in students' hearts as they connect with the lessons. Plus, learning about biblical characters helps encourage kids as they follow Jesus.
Teaching about Bible characters gives us a unique opportunity to convey important lessons that will stick with kids for life. From the story of David and Goliath, we can teach kids about faith and confronting the giants in our lives. From the story of Moses, we can teach about controlling our temper and the dangers of anger. From the story of Abraham and Lot, we can teach about the importance of avoiding temptation. From the lesson of Jonah, we can teach about the importance of obedience.
Each of these lessons helps children build a strong foundation in God's Word. At Children's Worship Bulletins, our mission for more than 30 years has been to help Sunday school teachers and parents alike teach kids about God's Word with our library of children's Bible lessons.
---
An Incredible Resource for Your Children's Ministry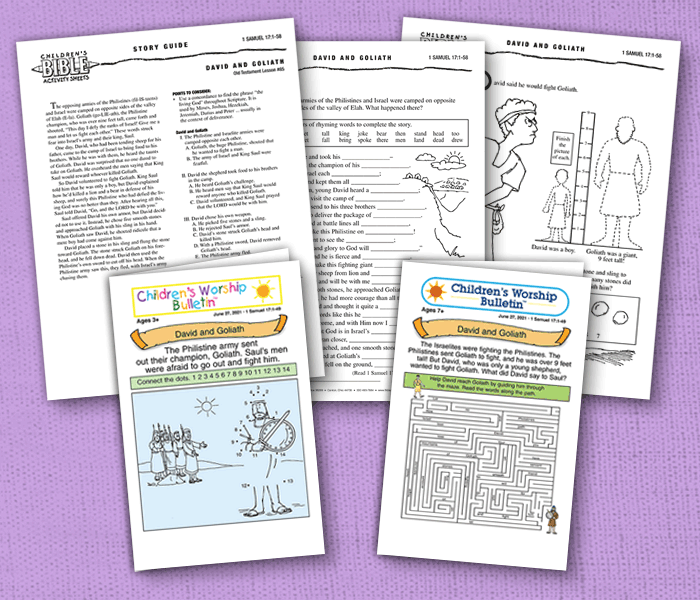 Our library features hundreds of character stories and topics, with Scripture references representing every book in the Old Testament and New Testament combined. From Adam and Eve to the Apostle Paul, we have a Bible activity or Sunday school lesson that will help your Bible students connect with your Bible character education plan.
Our bulletins and activities are great for kids from preschool age up to middle childhood. You can select from two age groups, 3-6 and 7-12. We offer both color and black and white options. To offer you maximum value and convenience, all our plans include unlimited material downloads. You simply pick the bulletins or activities you want to teach from, and then print as many copies as you need.
Every game, puzzle and activity in our library has been carefully created by children's educators to be both fun and educational. They're all packed full of Bible-based teaching that reinforces Christian values. These materials work great as part of a Sunday school curriculum or as stand-alone children's Bible lessons for a church service or children's sermon.
To prove our point, we've created two free lesson plans that feature our most popular Bible character lesson, that of David and Goliath. Read on for the free Sunday school lesson!
---
Discover How Easy It Is to Include Fun, Engaging Activities in Sunday School
It's easy to plan your David and Goliath Sunday school activities with Children's Worship Bulletins. We've included two examples of activities from our bulletins to accompany your Sunday school lesson about David and Goliath. Feel free to use them in your Sunday school class. As a Sunday School teacher, you know how important it is to have a good Bible activity to go with each Bible lesson. That's why we've provided a Bible game to go with each of the two age groups.
---
Sunday School Activity about David and Goliath for Ages 3-6: The Philistine Army Sent …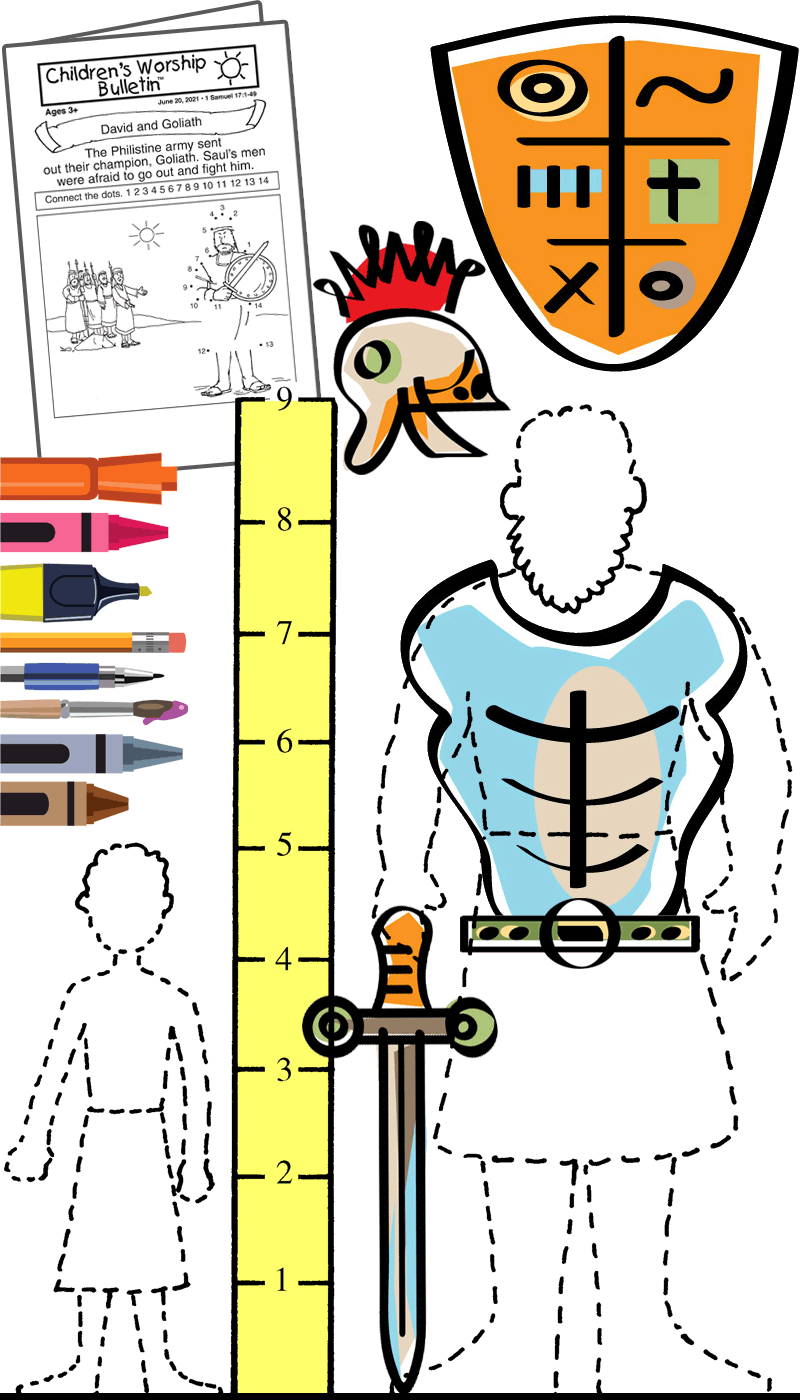 Activity Preparation:
Print a bulletin for each child.
Gather enough crayons for the group.
You'll need a 10-foot long sheet of craft paper; on it, draw the outline of a 9-foot man.
Print sample pictures from the internet of each of Goliath's pieces of armor: a bronze helmet, bronze scale-armor, bronze plates for his shins, a bronze scimitar for his back, a strong spear shaft with an iron head, and a shield-bearer walking in front of a warrior.
Activity Instructions:
Distribute a bulletin to each child. Ask if they've ever met someone who's 9-feet tall.
Unroll the paper with the outline of a giant man, and tape it to the wall. Have children come up to the outline and measure themselves against it to understand how tall a 9-foot man really is.
Place the sheet on the floor. After showing picture examples of each item in Goliath's armor, have children draw those items.
When children are done illustrating Goliath, ask them how they would be able to defeat someone that size. Guide them to the answer from the Bible verses: that David came "against [Goliath] in the name of the Lord of heavenly forces, the God of Israel's army." That is, David defeated Goliath because the Lord handed Goliath over to him.
Read aloud 1 Samuel 17:1-49 to reinforce the lesson.
Sunday school teacher tip: 1 Samuel 17:47 is a great Scripture to use as a memory verse for this Bible activity.
---
Sunday School Activity About David and Goliath for Ages 7+: David Defeated Goliath Bible Game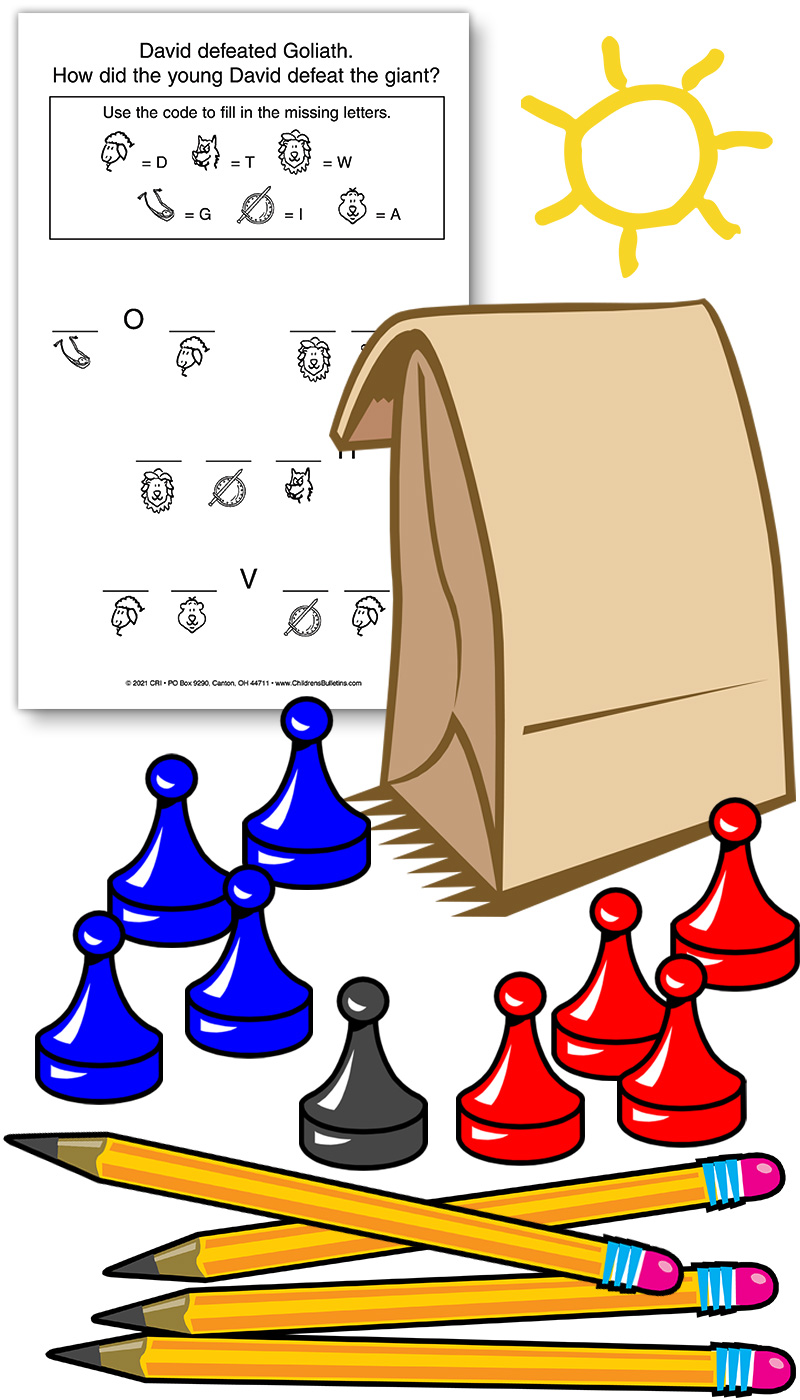 Activity Preparation:
Print a bulletin for each team of two.
Have a pencil for each child.
For each team of two, you'll need a set of four blue game pieces, four red game pieces and a black game piece in a small paper bag.
Get a small prize for each winner.
Activity Instructions:
Form teams of two. Distribute the pencils, bag of game pieces and bulletin to each team.
Have children solve the "How did young David defeat the giant?" puzzle.
Explain the object of the game (see below).
Give each winner a small prize.
Game Instructions:
The goal of this game is to be the first person in your group to cover all four words in the puzzle you just solved with the same-color game pieces. First, determine which person on each team will go first. The person whose first name starts with the letter closest to "A" in the alphabet will be the first player. Next, determine which person is what color. The first player must choose whether to be blue or red. The second player is the remaining color.
To start the game, the first player chooses a game piece from the bag (no peeking!). If it's that person's chosen color, place it on the first word of your solved puzzle. If it's the opponent's color or the black game piece, you must return both pieces to the bag and lose your first turn.
Next, the second player chooses a game piece from the bag. If you choose your color, put it on the first word of your solved puzzle. If you choose your opponent's color or the black game piece, you must return both pieces to the bag and lose your first turn.
Players continue to alternate picking game pieces from the bag. However, after their first turn, if they choose the opponent's color, they have to give that game piece to the opponent and lose a turn. If they choose the black game piece, they have to put one of their own pieces from their puzzle and the black piece back into the bag and lose a turn.
The first player to cover all the words in their solved puzzle gets to yell, "God was with David!" and wins the game.
---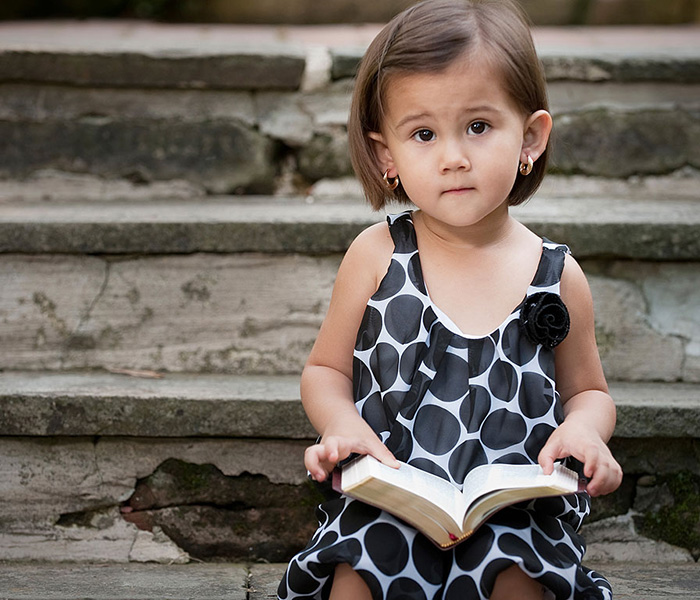 The Bible Story Archive
Included with your membership to Children's Worship Bulletins is access to our Bible story archive. It includes complete lessons for the most popular topics and characters in the Bible. Each story includes a Sunday school teacher guide as well as activity sheets for the younger and older age groups. Our story guides span both the Old and New Testaments. We cover topics from Creation and Adam and Eve to Nehemiah, and all the way through the Apostle Paul's missionary journey and Revelation.
We have personally used these Bible study lessons in our own Sunday school classes and stand by them as a fantastic resource for teaching kids about Scripture. Our bulletins are cross-referenced to the story archive so you can find these additional materials when you're looking for bulletins, or vice versa. The Bible story sheets make a great handout to send home with kids to help parents reinforce the weekly Bible lesson.

---
Build a Sunday School Curriculum that Fits Your Bible Education Needs
We hope we've proven just how easy it is to build a Sunday school lesson plan using Children's Worship Bulletins. Our bulletins make a fantastic base on which to build a memorable Sunday school ministry or children's church program. The benefit is that you can create a plan that perfectly suits your individual needs without starting from scratch each week.
A Complete Collection of Bible Character Education
While we've highlighted the story of David and Goliath, our most popular Bible character story, you can choose from many, many more character studies. Select the links below to view detailed examples and ideas from a small selection of our Bible character studies:
---
Check out our Bible character references for yourself with our RISK-FREE 30-day trial!
Put Children's Worship Bulletins to the test by signing up for our 30-day, risk-free trial period. Then you can see just how many Bible characters we cover! That's right: For one month, you can download and print bulletins and start creating a fun, engaging children's Bible lesson every week.
At the end of the month, you can either cancel and owe nothing or send in your low payment of $4.99 per age group to continue enjoying all our bulletins! You have NOTHING to lose!
Begin a membership to both age groups of Children's Worship Bulletins today and SAVE UP TO 50% on the second age group. IMMEDIATELY begin engaging your children in worship. They'll thank you!
Start your Risk-Free trial and download the perfect bulletin TODAY.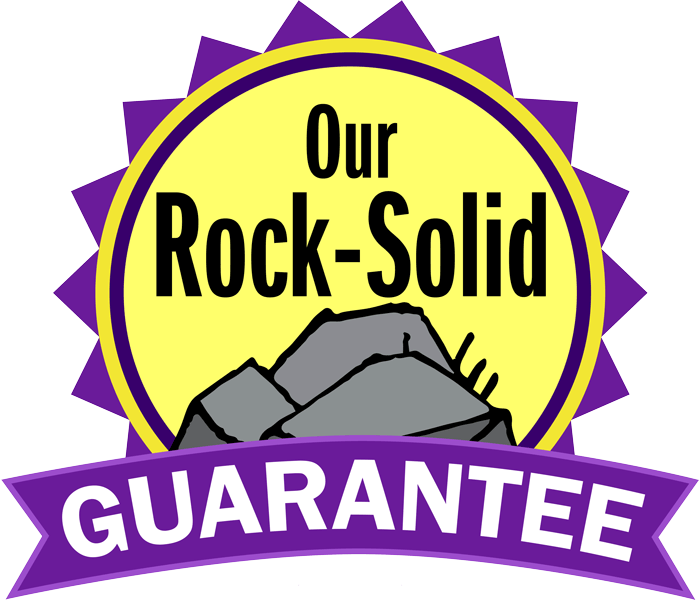 "Our children were ecstatic about the bulletins on Sunday. They felt so important to receive their very own bulletins." - Jo Ann Read More Testimonials