Sunday School Activities about Jacob
Need engaging Sunday school activities?
In this world of flashy, loud technology, engaging children in Sunday school activities can be challenging. Fortunately, there's a resource available to make Sunday school planning easy. Not only will you find materials to teach theologically sound, scripturally based lessons, but you will also find suggestions and supplemental bulletins for many lessons — such as the Sunday school activity about Jacob shown below. Children's Worship Bulletins is the perfect resource for any Sunday school.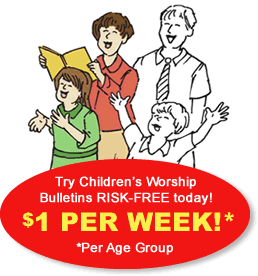 Why choose Children's Worship Bulletins?
Children's Worship Bulletins are
Rooted in Scripture
Easy to use
Fun, engaging, parent-approved and classroom tested
Targeted to ages 3-6 and 7-12
Risk-free trial available
Still not sure?
To show you how easy it is to use Children's Worship Bulletins, we've compiled two sample Sunday school activities about Jacob — for ages 3-6 and for ages 7-12 — for you to try. Try them in your Sunday school classes this week!
Sunday school activity about Jacob for ages 3-6: Jacob Wrestles with God
Activity Preparation:
Print a bulletin for each child
Gather enough crayons or colored pencils for the children
Activity Directions:
Give each child a bulletin and crayons or colored pencils.
Explain the activity, "While I read our Bible story, you'll connect the dots, from 1 through 12 to complete the picture of Jacob wrestling with an angel who looks like a man. When you're done connecting the dots, you can color in the picture."
Read aloud Genesis 32:22-31 while the children complete the puzzle and color it.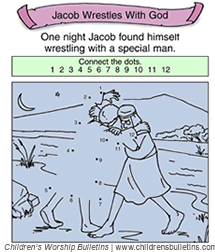 Sunday school activity about Jacob for ages 7-12: What happened next?
Activity Preparation:
Print a bulletin, with the code key at the top of the page covered or removed, for each child
A pencil for each child
You will need the code numbers and words from the puzzle's code key written on 15 small pieces of paper, wadded up to look like rocks
Gather extra small pieces of paper to make additional rocks
Get a basket or box to store the paper rocks
Have a small prize for the winner
Activity Instructions:
Prepare the rocks for the lesson. Add enough rocks without clues so that the total number of rocks equals the number of children in class. Put the rocks in a basket or box.
Give each child a bulletin and a pencil.
Explain the activity, "We're going to solve this puzzle by choosing rocks, one at a time, from the basket. Your rock may have a number and word on it, or it could be blank. After choosing a rock, open it and read aloud the number and word, or let the class know that your rock is blank. Anyone can try to guess the answer to the puzzle before all the rocks are chosen. The first person to correctly solve the puzzle, wins."
Allow the children to choose rocks and read the clues until there is a winner.
Give the winner a small prize.
Read aloud Genesis 32:22-31 to reinforce the lesson.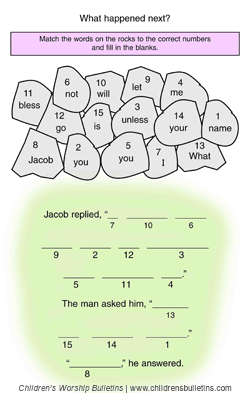 Guaranteed, Risk-Free Trial
Put Children's Worship Bulletins to the test by signing up for our 30-day, risk-free trial period, and see for yourself! That's right, for one month you can download and print bulletins to share with your children.
At the end of the month, you can either cancel and owe nothing or send in your low payment of $4.99 per age group to continue enjoying all our bulletins! You have NOTHING to lose!
Begin a membership to both age groups of Children's Worship Bulletins today and SAVE UP TO 50% on the second age group. IMMEDIATELY begin engaging your children in worship. They'll thank you!
Start your Risk-Free trial and download the perfect bulletin TODAY.

"Our children were ecstatic about the bulletins on Sunday. They felt so important to receive their very own bulletins."
- Jo Ann
Read More Testimonials