Printable kids' Bible lessons make it easy for teachers and parents.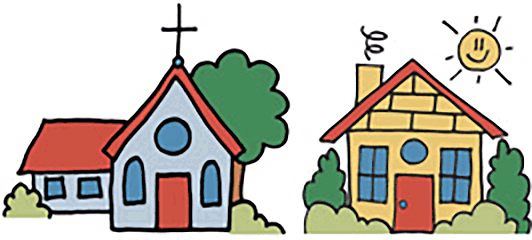 Kids will love their Sunday School lessons as Bible stories come to life with our endless activities on printable kids' Bible lessons. Teaching Sunday school can be fun, meaningful, and easy with these useful children's Bible lessons. Save your teachers' preparation time. Simply search online by Scripture reference and print or photocopy as many of these children's Bible activities as you need! These printable kids' Bible lessons are designed for easy duplication in color or black and white on both sides of standard 8 ½" x 11" paper, giving 4 full panels of activities for children each week. This is an easy way of getting God's Word in the hands of little ones.
---
Add take-home FUN to your Bible lesson.
Children LOVE Bible study when they have fun.
These printable kids' Bible lessons are a good way to retell a story. But even better, there are other Bible activities with these pages. We bring you creative Bible activities, games, and coloring sheets that will help change the "work" into fun. The childhood years are a great opportunity to fill those little minds and hearts with good things. These bulletins help children know that your church cares about them.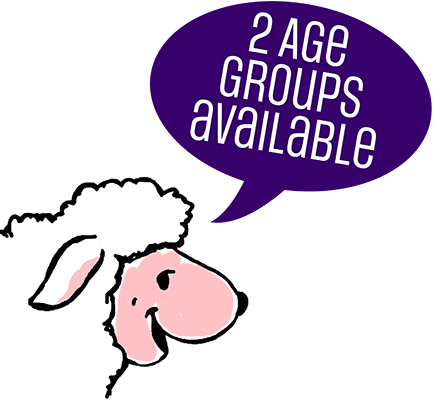 ---
Get age-appropriate material.
Available in two age groups.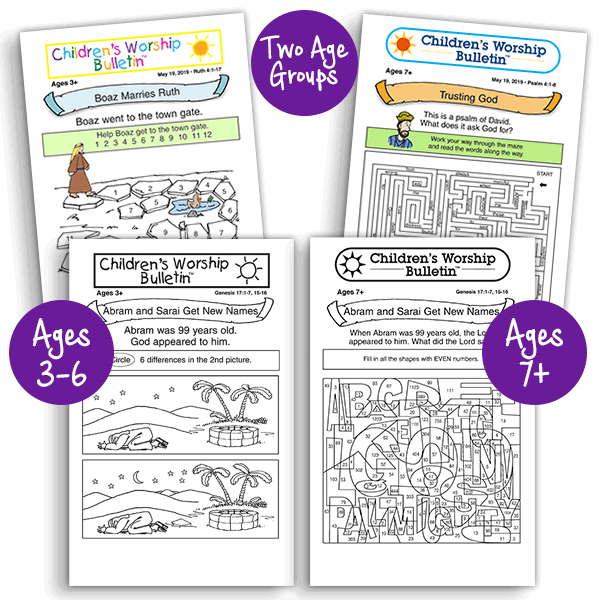 Children's Worship Bulletins offers two versions: Ages 3+ (perfect for preschool Sunday school lessons) and Ages 7+ (great for any Sunday school lesson, young or old!). Both versions are filled with pictures, puzzles, codes, seek-and-finds, dot-to-dots, mazes, hidden pictures, word games and more.
---
Be confident in the theology of the lessons!
The teaching is clear, simple, and faithful to the Scriptures.
Children's Worship Bulletins are created by experienced Bible educators, guaranteeing the integrity of educationally sound lessons. Every printable Bible lesson for toddlers, children, and tweens is reviewed by an educational specialist before being available to you. They are specifically designed to keep kids entertained with basic church lessons in faith and Scripture. Theologically, our printable kids' Bible lessons are biblically based and educationally sound. The messages are basic, positive and acceptable to churches of all persuasions.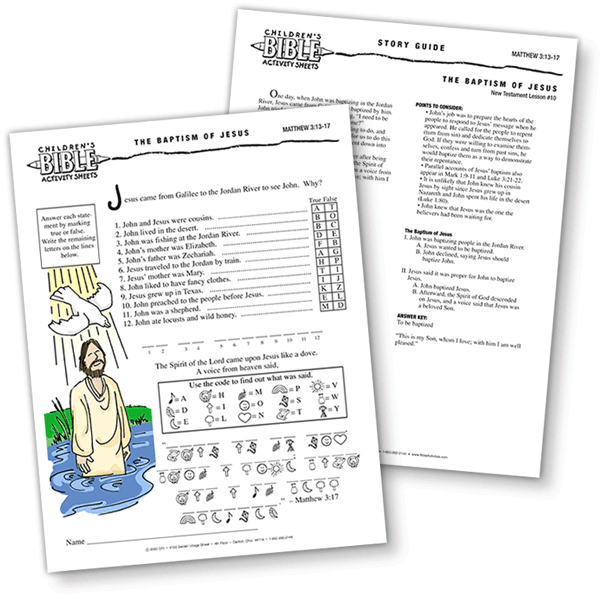 ---
Enjoy the vastness of our library.
Printable lessons for every book in the Bible.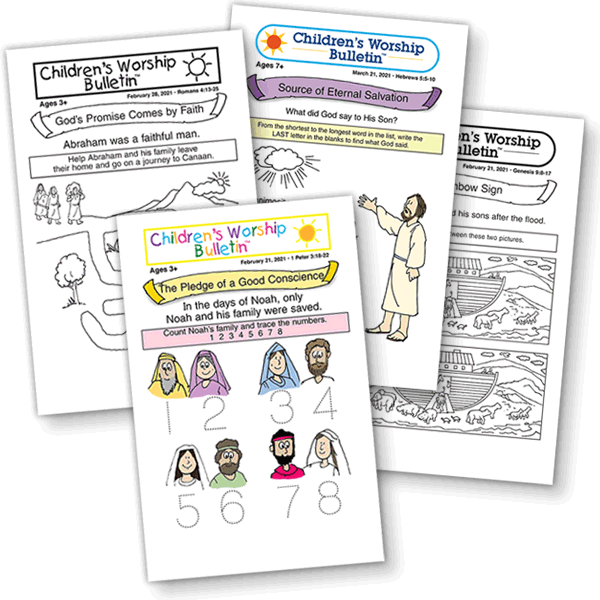 Need a printout for a last-minute event or a special occasion? Your membership includes access to thousands of additional Old Testament, Gospels and Epistles bulletins — all indexed and easy to locate with the "Scripture Search" feature. You will find the perfect bulletin at any time, every time. New lessons are constantly being added, including ones for special days, so you will never run out of lessons. Plus, they are reproducible!
---
Reproducible Children's Bulletins you can personalize and customize.
You can even add your church logo!
Customizing Children's Worship Bulletins is easy. Just go online to add any information you wish in the space provided. Teachers love to add the church's contact information, teachers' names, upcoming events, the church website address, or a special message to parents. Church administrators can add special birthday greetings, news about upcoming events or their church logo and information.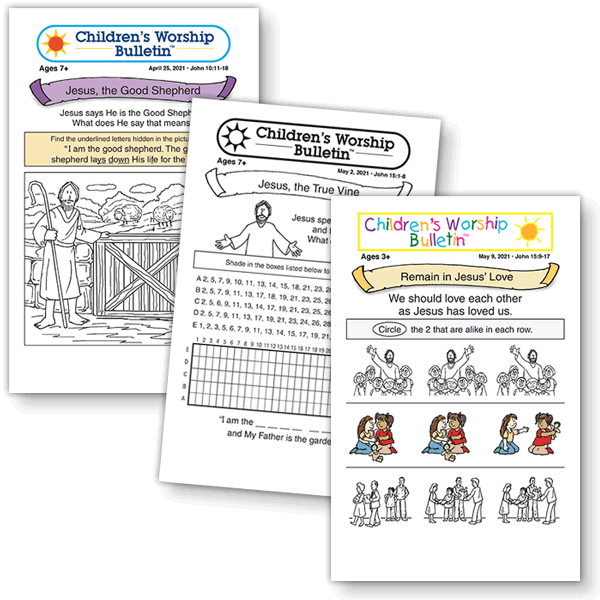 ---
Educating children for more than 30 years.
Your satisfaction is guaranteed.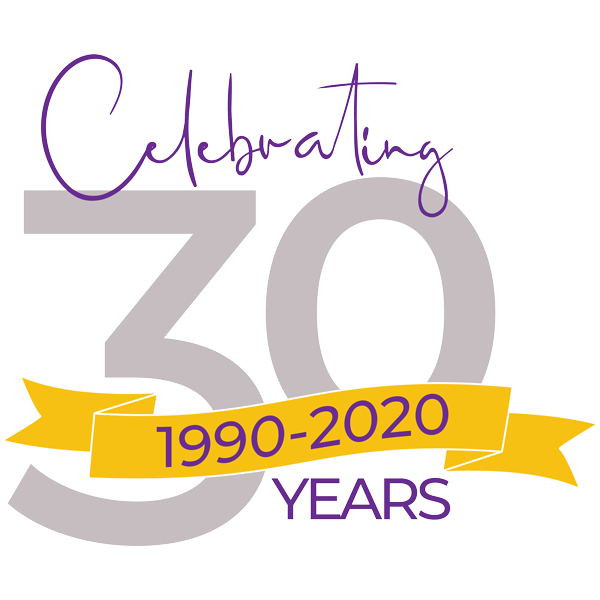 Since 1989, thousands of churches have relied on our quality children's products. You are always protected by our guarantee that we will provide relevant, fun material for your children to use with your weekly services, AND give you access to more bulletins and puzzles than you will find anywhere else! If at any time you are dissatisfied with Children's Worship Bulletins for any reason, we will cheerfully issue a prompt and full refund — no questions asked. That is just how confident we are that you and your children will love Children's Worship Bulletins.
---
Check out these other related topics!
---
Start Today! Cancel at any time.
Act now, and for as little as $4.99 per month, you'll receive access to our complete library of Bible-based activity sheets. It's a tremendous bargain you won't find from any other source.
And here's our guarantee: If at any time you're dissatisfied with Children's Worship Bulletins for any reason, we'll cheerfully issue a prompt and full refund — no questions asked.
Our convenient continuous-subscription program ensures automatic email delivery every Monday with our editor's pick of bulletins.
No commitment to continue.