How to Use Children's Worship Bulletins for Bible Study Activities for Kids
Bible study activities for kids are prepared for you.
Children's Worship Bulletins has what you need for your children's Bible studies. We have a large selection of biblically-based activities that have been reviewed by an educational specialist to ensure that they are educationally sound.
Our activities are available at two levels: for ages 3-6 and ages 7-12. Based on familiar Bible passages, our activities come from the Old Testament, the New Testament, all four gospels, and the Epistles. Our fun activities are filled with pictures, puzzles, codes, mazes, word pictures, and more to keep children engaged and excited about learning Scripture.
Here's just two examples of how you can take one of our Children's Worship Bulletins and turn it into a fun and engaging way for your kids to learn together!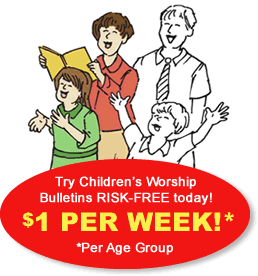 LOVE YOUR ENEMIES Bible Study Activity Matthew 5:38-48 for ages 7-12.
Preparation:
Print the Children's Worship Bulletin with the activity and answer key you want.
Assemble these materials:

Pencils for everyone
Activity sheet for each child
Small prizes in a shoe box
Activity directions:
Divide the class into teams of 2-3.
Give the directions to the class: "Add the numbers from the intersecting row and column to find the letters to fill in the blanks."
Explain the object of the game. "The goal is to be first team finished."
Yell, "GO!" and wait for someone to finish.
The winners choose a small prize from a prize box.
Then read Matthew 5:38-48 together to reinforce the lesson.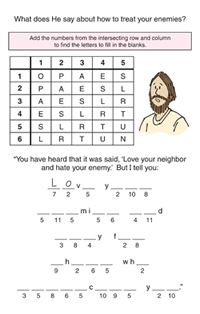 HOW WE SHOULD LIVE Bible Study Activity Matthew 5:38-48 for ages 7-12.
Teacher preparation:
Find the bulletin with the game you want and print it with the answer key.
Gather these materials:

Pencils
A bulletin for everyone
Pencils or candy for prizes
Directions for the activity:
Let each child choose a partner.
Cross out all the "X's", "V's", "Q's", "Z's" and "J's" from the passage. Then write the remaining letters in order on the lines below.
Set a maximum time limit, and say "GO!"
The winner is the first team finished.
Read the answer together as a whole group.
Reward the top two teams with a small prizes.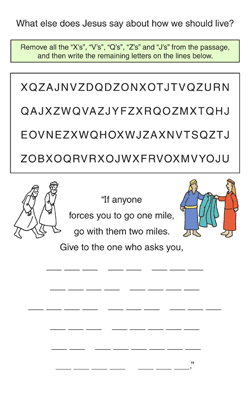 Order online today.
Be assured that you will find appropriate activities that are faithful to the Scriptures you are using in your Bible study. Use our database for the specific Scripture that you want. Our easy search by topic or Scripture reference helps you quickly find what you need from hundreds of choices. Download as many bulletins as you may need from the website. These reproducible activities are available in color or black and white.
Either age group of Children's Worship Bulletins is only $4.99 per month. Take advantage of our new customer special offer and when you order, you'll receive both age groups for only $7.49 a month when you choose electronic delivery. That's a savings of 50% off your second age group!
Our rock-solid guarantee.
We guarantee that Children's Worship Bulletins will provide relevant, fun material for your children to use with your weekly services, AND give you access to more bulletins and puzzles than you'll find anywhere else! Better yet, they're conveniently available to you at any time.
And here's our guarantee: If at any time you're dissatisfied with Children's Worship Bulletins for any reason, we'll cheerfully issue a prompt and full refund – no questions asked. That's just how confident we are that you and your children will love Children's Worship Bulletins.
Place your ORDER TODAY so the kids of your church can begin using the fun Bible study activities this week to enhance their Bible learning! Order online or call 1 800 992-2144.

"Our children were ecstatic about the bulletins on Sunday. They felt so important to receive their very own bulletins."
- Jo Ann
Read More Testimonials